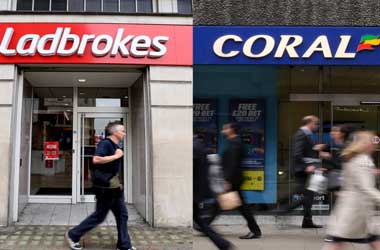 The possible clampdown on fixed-odds betting terminals (FOBTs) by the UK government could have a significant impact on the revenue of the newly created and merged gaming entity Ladbrokes Coral. The company could end up losing up to 25 percent of its revenue.
The new £2.4-million gambling giant, created after betting companies Ladbrokes and Coral merged earlier this year, has one of the largest network of FOBTs in the country. More than half of the revenue of the merged company is expected to come from these machines.
Analysts have predicted that more stringent regulations might result in the loss of around £100 million in pre-tax earnings in the first year of operation as a merged entity.
The merger of Ladbrokes Coral was finalized after a total of 360 betting shops across UK were sold. Despite this, their combined network of betting shops is now the largest in the country, surpassing that of previous leader William Hill. FOBTs has been viewed with disfavour by the UK government for long because it allows players to place a maximum bet of £100 every 20 seconds. This feature according to the government encourages addictive behaviour and is harmful to vulnerable customers.
Al Jazeera English
In October, the government issued a Call for Evidence to the gambling industry to provide information on how the gaming companies manage their FOBTs and how their customers interact with the gambling machines. The Call for Evidence period ends on December 4, after which the government will review the information submitted and possibly draft new rules.
The request for information is part of the government's triennial investigation into the country's gambling industry. Industry experts surmise that regulations will be changed early next year since the period for Call for Evidence is much shorter than expected.
Some government officials have hinted that the allowable maximum bet amount placed in these machines every 20 seconds may be brought down from £100 to £2. This sharp cut in might not occur immediately, but even if it is slashed to £10, the industry faces significant losses in revenue. FOBTs were introduced in early 2000s and have been steadily growing in popularity. Annual player losses on FOBTs has gone from £1.3 billion in 2010 to £1.7 billion in 2015.
The Association of British Bookmakers has previously pointed out that FOBTs have been in operation for almost two decades but problem gambling levels have largely remained stable in the country. It has asked the government to carry out an evidence-based review and not penalize those who gamble responsibly.